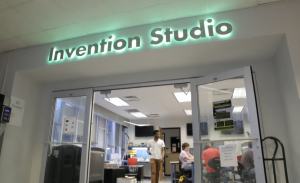 "When you give Dr. Craig Forest an inch, he takes a mile. The mild-mannered Assistant Professor of Bioengineering at Georgia Tech helped set up the Invention Studio on the first floor of a nondescript engineering building at the heart of the university's verdant campus. Founded in 2009, the 3,000 square-foot space grew and grew, eventually taking over the entire lobby and multiple workshops. The Studio, which features 3D printers, laser cutters, injection molding machines, and literally everything else a maker could want, is now a powerhouse and sponsors line up to donate cash to the free, 24-hour hacker space…" [Read More]
PBL Principal Investigator, Craig Forest, was recently featured on TechCrunch as the founder of the Georgia Tech Invention Studio, a maker/hacker space owned, maintained, and operated by Georgia Tech undergraduates. Learn more about the world's most heavily used undergraduate machine shop over at TechCrunch!
Learn more about the Invention Studio here.