The Precision Biosystems Laboratory, directed by Prof. Craig Forest, is focused on fundamental engineering advancements, the development of miniaturized, high-throughput robotic instrumentation, and the application of the two to advance biomolecular science. Our research program is in the emerging bio-nano field—at the intersection of bioMEMS, machine design, neuroengineering, genetics, optics, and manufacturing. In the past five years, the instruments developed in the laboratory have led to the genesis of a new field of intracellular, in vivo robotics for neuroscience, a virus detector that has a 10 to 100 times throughput improvement over pre-existing technologies, a device for personalizing drug dosage to prevent heart attacks, and a high throughput genome engineering technique. Fundamental advancements have been made in micro-fabrication, modeling flow of photons and fluids, and neuron identification within the living brain. These instruments, and the discoveries they enable, are unlocking new frontiers in neuroscience and genetic science.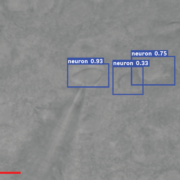 With the recent advances in deep learning enabling rapid and accurate identification of complex structures, it's application to in vitro patch-clamp electrophysiology was inevitable. We are exploring the application of these techniques to enhance the capabilities of our fully-automatic patch clamp robots. For example, we have demonstrated fully automatic, real-time detection of healthy neurons within traditional DIC images and vision-based techniques to correct for hardware error stack-up during pipette localization.
http://pbl.gatech.edu/wp-content/uploads/2021/03/Neuron-Detection-Figure.png
467
584
Academic Web Pages
http://pbl.gatech.edu/wp-content/uploads/2018/09/clear.png
Academic Web Pages
2021-03-16 15:08:25
2021-03-16 15:11:22
Deep Learning for Patch Clamp Electrophysiology
Want your own autopatcher robot?
Visit autopatcher.org for a parts list, manual, and software to make your own autopatcher robot.
Visit neuromaticdevices.com to purchase ready-to-use custom installations and training.