Craig Forest wins Zeigler Outstanding Educator Award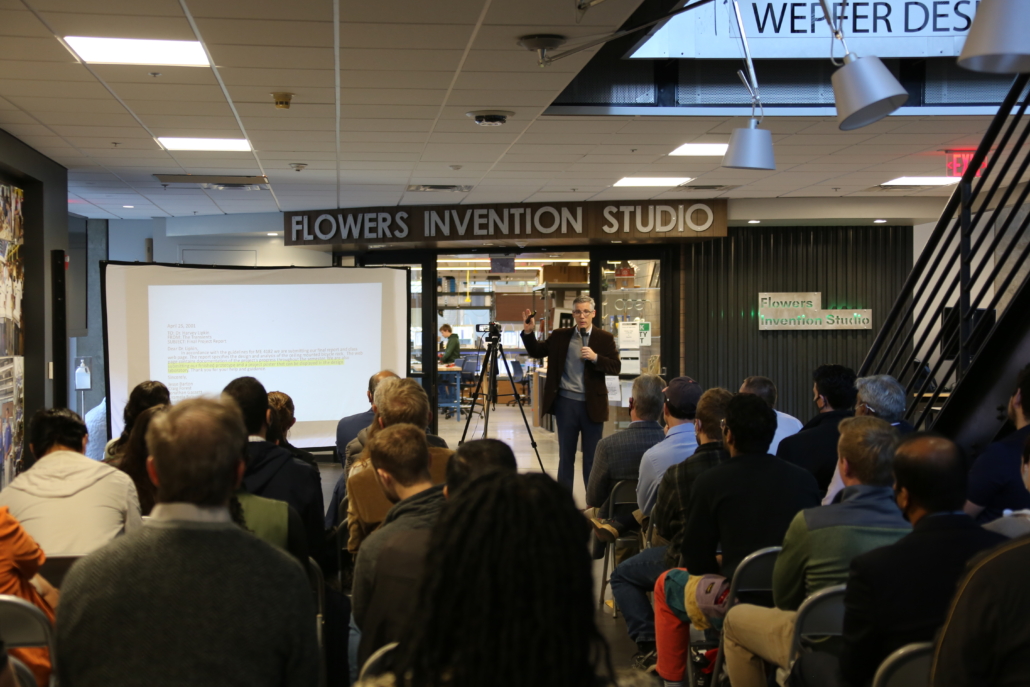 Craig Forest delivered the Zeigler Outstanding Educator Lecture on November 3, 2021 in the Wepfer Design Commons, just outside the Invention Studio! His talk was titled "Enabling student ownership of making, invention, and entrepreneurship." You can watch the lecture here.
"I'm honored to receive what I have long considered to be the highest teaching honor the Woodruff School of Mechanical Engineering," said Forest. "Since I was an undergraduate (class of 2001), I have admired the awardees and dreamt of joining their company."
Abstract. Creativity, invention, and innovation are values championed as central pillars of engineering education. However, university environments that foster student-driven, open-ended, design-build projects are uncommon. Over the past 13 years, Dr. Forest has been a leader in transforming the engineering student experience within and outside of Georgia Tech to be more hands-on, team-focused, open-ended, creative, inventive, and entrepreneurial through four foundational programs: Invention Studio, InVenture Prize, Capstone Design, and CREATE-X. In 2009, he spearheaded the creation of the Invention Studio, a free-to-use, 4500 ft2 maker space and culture where thousands of students per month create things, meet, and mentor each other.  The InVenture Prize @ Georgia Tech is a K-12 and collegiate invention competition.  Called "American Idol for Nerds" by National Public Radio (NPR), every year many thousands of K-12 and undergraduate students from dozens of schools and universities compete for $50k+ in prizes and free patents in front of tens of hundreds of thousands of viewers on a live broadcast in 10 states on PBS affiliate networks. A Capstone Design course with hundreds hands-on projects per semester, extramural funding from industry sponsors, and a 5000 person Expo celebration is launching a sustainable, entrepreneurial movement in the engineering curriculum.  Dr. Forest is also associate director of CREATE-X, a flagship entrepreneurship program at Georgia Tech.  CREATE-X's success is staggering: over the past six years CREATE-X has directly impacted 6000 students and fostered the founding of 300 student-led companies valued at over $1B.  These programs, infrastructure, and cultural transformation are demonstrating the value and sustainability of a student-owned, hands-on, design-build education to stimulate innovation, creativity, and entrepreneurship in engineering undergraduates.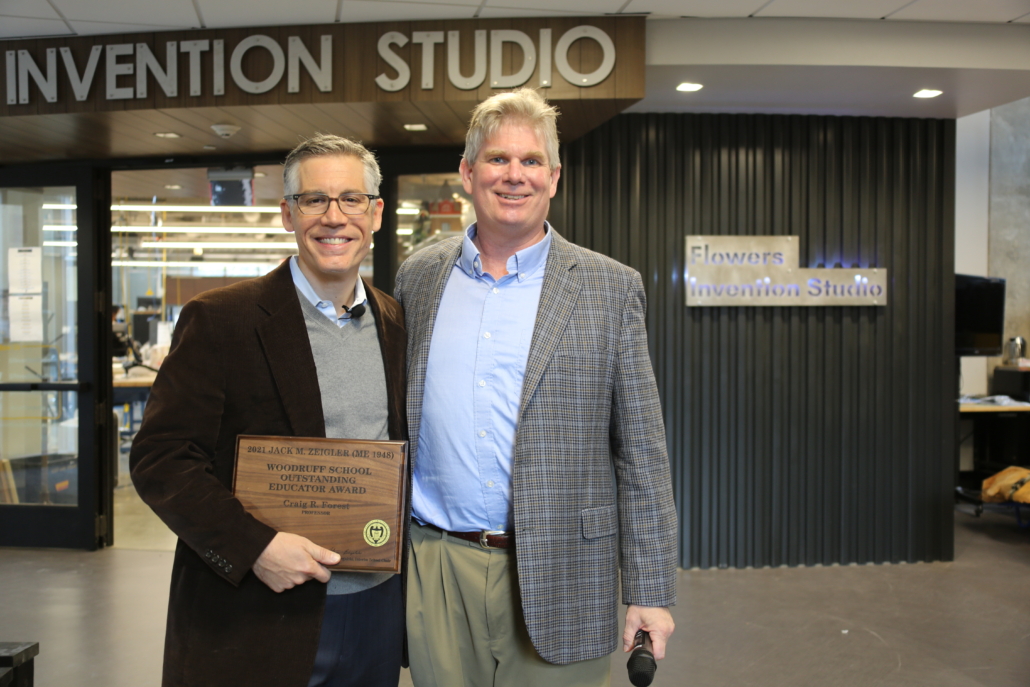 https://pbl.gatech.edu/wp-content/uploads/2021/10/51655356514_5365aa9722_o-scaled.jpg
1707
2560
Academic Web Pages
http://pbl.gatech.edu/wp-content/uploads/2018/09/clear.png
Academic Web Pages
2021-10-28 21:15:51
2021-11-19 04:36:48
Craig Forest wins Zeigler Outstanding Educator Award